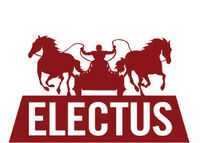 Electus is a production studio founded by Ben Silverman and financed by Barry Diller's IAC/InterActiveCorp in 2009. Since Electus' launch, the company has announced several acquisitions and partnerships, as well as development deals with NBC, ABC, MTV, VH1, Facebook, Yahoo! and AOL.
Electus projects include:
Edit
Killer Women (Upcoming - 2014)
The Hero (Current)
Mob Wives (Current; Co-produced with The Weinstein Co)
Fashion Star (2012; Co-produced)
Car Boss (2012; Co-produced)
William the Conqueror (2011)
Ad blocker interference detected!
Wikia is a free-to-use site that makes money from advertising. We have a modified experience for viewers using ad blockers

Wikia is not accessible if you've made further modifications. Remove the custom ad blocker rule(s) and the page will load as expected.